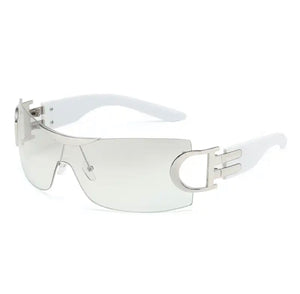 Y2K Me Please - Silver
Regular price
Sale price
$17.99
---
Description: Introducing our Oversize Sun Glasses, the perfect fusion of punk-inspired style and 2000's brand designer fashion. Step into the spotlight and embrace the Y2K vibes with these statement-making sunglasses.

Crafted with precision, these sunglasses feature a striking silver/gray color that exudes an air of sophistication. The goggle-inspired design adds a touch of edginess, making these sunglasses a must-have accessory for trendsetters and fashion enthusiasts alike.

Made from a combination of high-quality metal and PC materials, these sunglasses offer unmatched durability and long-lasting wear. The sturdy construction ensures they can withstand the demands of your active lifestyle while maintaining their sleek and stylish appearance.

Experience the world in high definition with our HD visual lenses. These lenses provide exceptional clarity and vividness, allowing you to see every detail with precision. Say goodbye to blurry vision and hello to a captivating visual experience.

Shield your eyes from harmful glare with the anti-glare technology integrated into these sunglasses. Whether you're driving, lounging on the beach, or simply enjoying a sunny day, you can count on these sunglasses to reduce glare and enhance your visual comfort.

Protect your eyes from the sun's harmful rays with UV400 protection. These sunglasses effectively block 100% of UVA and UVB rays, ensuring your eyes remain shielded from potential damage. With UV400, you can enjoy your outdoor adventures with confidence and peace of mind.

Embrace the bold, stylish, and punk-inspired look with our Oversize Sun Glasses. Step into the limelight and make a fashion statement that will turn heads wherever you go. Elevate your style and protect your eyes with these iconic Y2K sunglasses. Order now and step into a new era of fashion-forward eyewear.
Color- Silver/Gray
 Style - Goggle/ Simple / Stylish
Material- Metal/PC
HD Visual
Anti-Glare
UV400
Total Width of Frames (148mm)
Frame Width (72mm)
Frame Height (48mm)
Nose Bridge (22mm)
Leg Length (110mm)